Company
Established in 2007, Pro Wood Market a Pro Wood Construction Company is a family owned and operated business that understands the value of hard work, discipline, and excellent customer service. Located in Lilburn, GA we began by selling wooden brackets and corbels directly to homeowners wishing to increase their curb appeal in the metro Atlanta area. Not long after the business took off and before we knew it we were selling to contractors, builders, architects, and wholesalers working on much larger projects across the nation.
Since then, we have continued to grow into one of the nation's leading providers of western red cedar wooden architectural products. Our products are handmade right here in the USA. Ideal for home and commercial remodeling, or for those individuals simply looking to take their exteriors to the next level. Perfect for renovations and revamping, we are confident that our wood products will transform your next home or building project into something you'll be proud of. We believe in integrity and honesty, and would never sell a piece we wouldn't want adorning our own home.
As the exclusive online reseller for Pro Wood Construction Inc. we're proud to be able to offer superior quality products to thousands of customers, both large and small, at unbeatable factory direct pricing. No matter what need you have for our wooden exterior architectural products, we know that you will find satisfaction shopping with Pro Wood Market. So please take a look at our vast selection of wood products and find the best fit for your next project. If you have any questions or would like some advice please don't hesitate to contact us, we're here to help!
Thank you for your interest in our company and products.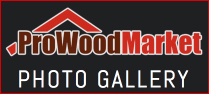 We showcase a wide variety of handmade architectural products and custom cedar woodwork from ProWoodMarket.com and Pro Wood Construction Co. See all of the exciting possibilities, browse by product category below or check out what's happening on our production floor.

Pro Wood Market, a Pro Wood Construction Company, is Member of The Western Red Cedar Lumber Association. Click Here
The Western Red Cedar Lumber Association is a Vancouver (Canada) based non-profit association representing 27 quality producers of Western Red Cedar lumber products in British Columbia, Washington, Oregon and Idaho. Founded in 1954 and known as "the voice of the cedar industry"-the WRCLA operates customer service programs throughout Canada and the United States to support its members' cedar products with information, education and quality standards. In addition to its Vancouver headquarters, the WRCLA has field offices both Oklahoma & Washington State, where our cedar specialists offer a Cedar Advisory Service for specifiers, builders and other cedar consumers. When customers have a question about cedar, the answer is just a phone call away. Over the years the WRCLA has strived to make its cedar as user friendly as possible by producing quality products to uniform standards and by providing the construction industry with the information it needs on WRCLA cedar products, their specification and proper use. WRCLA activities also include programs on product quality and standards as well as research and new product development. The association sits on a number of code and standard committees and works closely with FP Innovations.

AJ Forest Products is located in the heart of Squamish Valley where we have been manufacturing British Columbia's finest Western Red Cedar lumber since 1974. The plant is situated on 10 acres of paved property to operate as a boutique sawmill as it requires a higher standard of Western Red Cedar Logs for its renowned timbers. The AJ Premium Appearance grade is recognized globally as the benchmark of cedar timbers in the industry. The brand represents excellence to attract the most distinguished customer. Our relationships are a testament to our business integrity. We don't just represent our investors – the AJF Team represents all our employees and their families that they go home to everyday.

Western Forest Products is an integrated Canadian company sustainably managing forests and manufacturing high-quality wood products on the Coast of British Columbia. We source high-quality fibre from five distinct coastal BC tree species, each having its own unique properties, providing for the demands of our global customer base. Our access to quality fibre, means our wide range of products are consistently available to discerning buyers worldwide. We have the largest investment in Coastal manufacturing with 8 flexible milling facilities and a reputation for high-quality products, to exacting customer specifications. This positions us as a preferred supplier to customers from over 25 countries. Those customers are supported by service agents in more than 15 locations around the world to source exactly what they need and delivered on time.

Our key company values are:
We are committed to personal safety, sustainable management and environmental stewardship.
We behave with integrity, passion and transparency.
We seek mutually beneficial relationships.
We are dedicated to a culture of accountability and continuous improvement.